Tasmania has it all, experiences from the ocean, underwater to inland rainforests, from mountain-top to deep underground. This island's forests, rivers and mountains are the heart and organs of a region that delivers outstanding, locally-made food and drink and is a haven for some of the world's most unusual wildlife. The size of Switzerland, it takes more than a couple of weeks to properly explore one quarter of Tasmania's land, so here are just 10 of a vast number of things we could recommend you do. So when you're ready, get in touch so we can tell you about all the rest!
1. Photograph wildlife on Bruny Island
Tasmania is a subantarctic island, lying in the Southern Ocean, off the tip of mainland Australia. It has twelve birds found nowhere else on Earth and sometimes-with a bit of luck-people have seen all of them in a single day. A night on Bruny Island in the company of a local wildlife guide will also give you the chance to see Eastern Quolls, abundant north of "the neck". In spring, there are lots of penguins and shearwaters too, not to mention the albatrosses and dolphins that are seen just off the coast. Bruny is a fantastic place to spend at least a couple of days and if you stay in the right place, you'll get to experience all the usual fair ... the local cheese and wines, for instance, but you'll also get to boast about seeing things most other visitors miss, because they left on the afternoon ferry back to Hobart.
2. Try your hand at fly-fishing
Tasmania's crystal clear-flowing rivers, streams and lakes have been the place of choice for generations of local fly-fishermen specialising in these traditional techniques and eager to guide others to learn. If you're a beginner, you'll learn what you need to know. If you're already a fly-fisherman, you'll be taken to one of a number of wild river fishing spots. Whichever is it, you'll enjoy a relaxing day in the wilderness, learning a new skill and passing the time with one of the state's top experts.
3. Learn wooden ship building in the Huon Valley
The town of Franklin is home to The Wooden Boat Centre and Frank's Cider. Ships, that used to transport apples from the heritage orchards, are still maintained here and craftspeople from all over the world pay to come and learn the historic skills needed to build Huon Pine boats. You can take a sail on the river and even hire a dinghy to row through Australia's oldest man-made canal. The Egg Island canal was dredged over 45 weeks in 1838 for about £300 by one man with a horse and a bucket providing an essential trade route across between Franklin and Cradoc. Nearby you've got the Geeveston Platypus viewing areas and access to the Tahune air walk.
4. Take a steam train and white-water rafting experience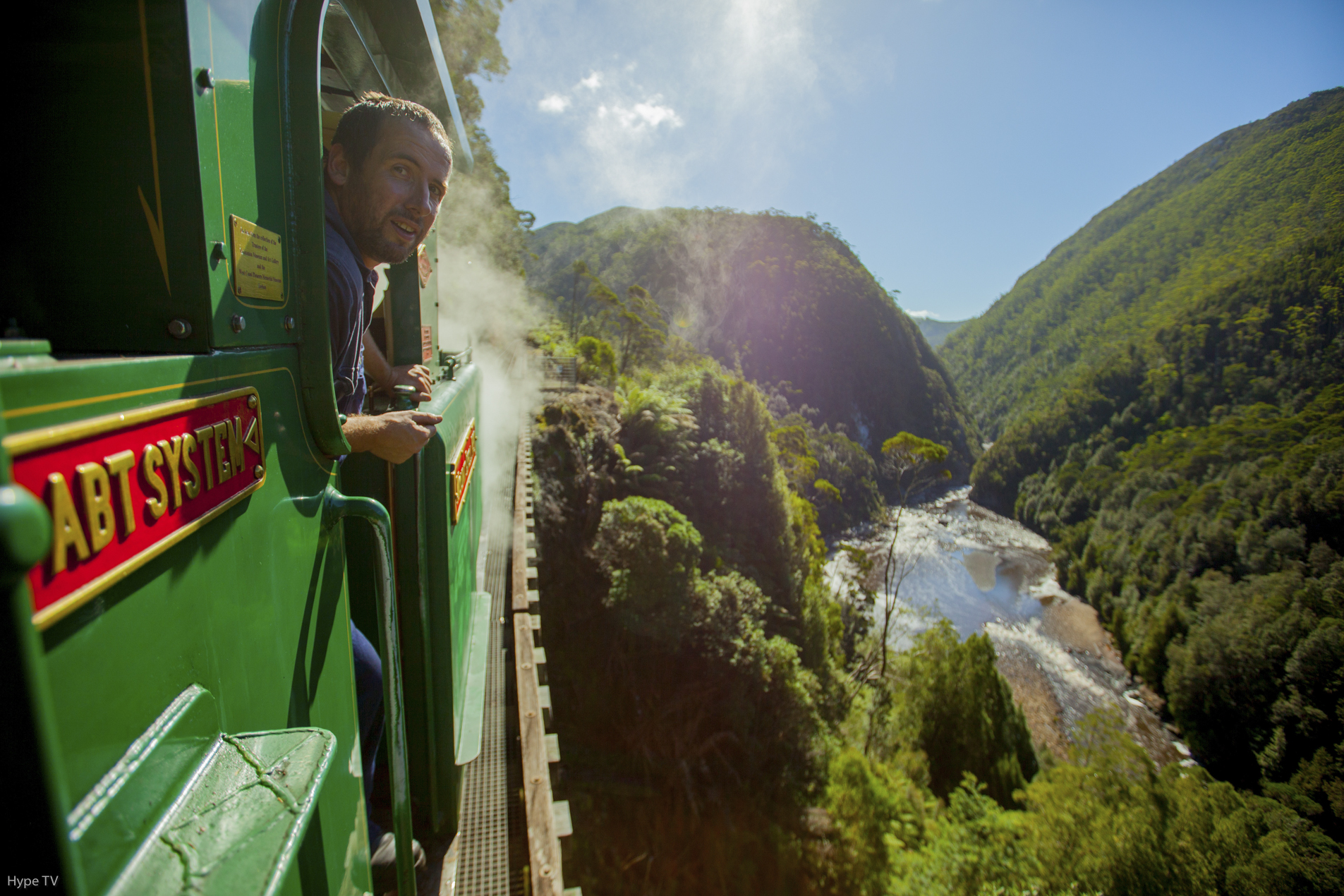 The mighty King River in northwest Tasmania, winds its way through steep rainforest-clad mountains from the mining town of Queenstown to the coastal town of Strahan, on the edge of Macquarie Harbour. While you might prefer to just take the train, the more adventurous traveller has the option to raft the 20 kilometres in one direction (including seven kilometres of rapids) before catching the train for its onward journey. The historic railway climbs steep hills and affords spectacular views of the King River Gorge.
5. Photograph Tasmanian Devils in the wild
The world-famous private nature reserve at Mountain Valley north of cradle mountain, is a haven for wildlife. Behind the shadow of Black Bluff and on the edge of the wild Leven River, the grassy flats burst with native mammals and birds. At night, Tasmanian Devils and Spot-tailed Quolls congregate outside the floor-to-ceiling windows. At dawn and dusk, Native-Hens, Tasmanian Pademelons and Wombats graze and it can all be seen from the comfort of a log cabin, with a roaring fire and a glass of wine. The devils will often approach the glass and sit on the balcony only centimetres from the glass.
6. See the highest sea cliffs in the southern hemisphere
A boat trip around Tasman Island from Eaglehawk Neck is the perfect addition to a trip to Port Arthur. The island itself has an abandoned lighthouse and the keepers introduced cats many years ago. In recent times, Rob Pennicott paid for the cats to be caught and eradicated, which has saved millions of Short-tailed Shearwaters that breed there. There are New Zealand Fur Seals and Black-faced Cormorants breeding on the rocks and nearby, at Cape Pillar, 300m tall sea cliffs, the highest in the whole southern hemipshere. It's not uncommon to see large numbers of Common Dolphins and albatross from the trip. Killer Whales and even a Blue Whale have been seen from time to time.
7. Explore deep underground
Tasmania is full of caves and there are numerous places you can head underground to learn the difference between stalagtites and stalagmites. If you're heading south of Hobart, there's Hastings Caves near Geeveston. There is even a thermally-heated pool, so take your bathers (even in winter - the showers are really hot!). Or in the north, try Mole Creek Caves and the nearby Marakoopa Cafe for a bite to eat.
8. Visit one of the world's most famous modern art galleries
David Walsh spent the money he made competing internationally in poker, to build MONA, the Museum of Old and New Art. Housing his private collection of over 1,900 artworks, he has said that he wanted a building that "could enliven the experience of viewing art". Approached in camouflaged ferries from Constitution dock, there are no windows and the atmosphere is ominous. Each year, the museum becomes a centrepiece for Hobart's famous Dark MOFO festival.
9. Kayak historic constitution dock
Constitution docks was saved from commercial modernisation by a decree signed by Queen Victoria, that bequeathed the waterway to the local ship-owners. Today, the area's stone buildings and traditional layout and architecture play host to festivals and are a beautiful centrepiece to one of Australia's most iconic cities and Hobart's working waterfront. Seeing this from water level gives you a whole new perspective as you are guided in complete safety by kayakers who grew up on the water here. It's an experience that thrills and delights people of all ages and interest (image, Roaring 40s Kayaking).
10. Visit one of most remote wildernesses left on Earth
A day trip into Melaleuca is a must for any trip to the south but a word of caution ... it doesn't always happen. Precipitous mountains block the wildest weather from the Antarctic so while it can appear calm in Hobart, the conditions change fast and a glance at the summit of Mount Wellington is usually enough to tell what's happening in the southwest. Flying from Cambridge Airport, you land on a remote airstrip in the middle of a vast heathland. With Eskies of local wine and food in check, you board your boat and head out onto the river to explore some of Port Davey Marine Reserve ,with its 800 metre mountains rising from the sea. For the real adventurous, there are multi-day walks here and also, occasionally, sailing trips. If you book early-enough, it's also possible to stay the night in Port Davey at the wilderness resort. One final point ... this is also the place where all the world's remaining Orange-bellied Parrots breed and start their annual migration to mainland Australia.