Overseas travel just a skip from home has become rather desirable of late. This pocket-sized Bass Strait wonder perched off Tassie's NE tip packs adventure, flavour and stunning scenes into an island home to about 1000 locals. The biggest of 52 Furneaux Group islands, we've gathered 10 cracking must sees so you don't miss a thing.
1. Trousers Point Traversing

​Not far from touch down, Trousers Point is a breathtaking first stop. Wander the fiery-orange lichen licked boulders and find out about the shipwrecked fellow who lost his trousers coming ashore … or did he? Picnic, swim, take the coastal walk or settle in for sunset. Nature got excited with Flinder's colour pallet – from vivid aquas to white sands this is a striking welcome.
2. Get Social at The Flinders Wharf
​This is where the crays happen! Let Head Chef Mikey of The Flinders Wharf cook you up a storm and drop into Flinders Island Distillery next door where notes of the island are infused. Much of a community hub, Park Runners leave from the Wharf and there's always a cheery island buzz. Drop a line off the wharf, head just up the road to Condimental for amazing pies from Jon (once a pro juggler!) and don't miss Cate Cook's tuckshop for coffee and treats.
3. Meet a Bundle of Wombats
​Look we can't promise this, but if you head to The Purple Swamphen in Whitemark, you might just find a wombat or two hanging out there. Regardless, the store is packed with handmade and eco-conscious gifts so shop away. Owner Mel helps Kate Mooney (aka the Wombat Lady) to look after orphaned baby wombats. Kate does this all off her own bat, so be sure to donate to her incredible work rescuing and releasing 150 plus. That reminds us, go slow on those roads at night. And don't forget to wave to every car!
4. Summit Mount Killiecrankie
​This is now one of my all time Tasmanian highs! Climbing Killiecrankie left us without words. Giant geological wonders trailside are like roaming through nature's own sculptural granite museum. Plus, even a hint of altitude rewards with sweeping views of a coastline dotted with quaint coves. It's about one hour up if you leave from the Docks (stop when you get to sign saying 4WD only). If you like Tassie's East Coast, this is like discovering it all over, but with new outcrops and secret beaches to fall for. Which takes us to …
5. Cove Hopping at The Docks
​The Docks, as the locals call it, is a stunning patch of coastline. You can walk through from Killiecrankie or take the 4WD track road in. It's a bit of a local secret but well worth the trek. Breathtaking bays and, as they say on Flinders, if one has footprints just go to the next.
6. Burrow away at Wombat Lodge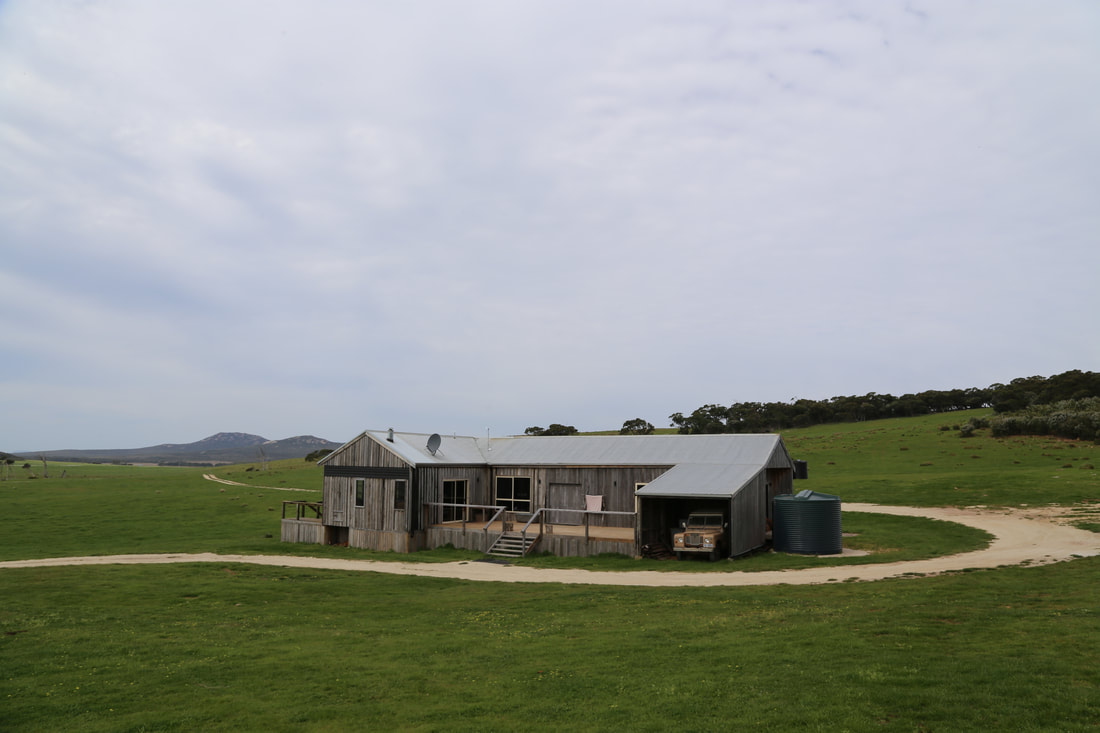 ​This gorgeous property is nestled on the owner's cattle farm, that's been in the family since the 1930s. Thoughtfully appointed, and all style, the Wombat Lodge deep bath is perfect after a day of exploring. What's more the property spills down to a coastline where just a short walk away is …
7. Soak up Stacky's Bight
​You could be forgiven for thinking you'd stumbled on secret treasure here. Pack a picnic and swim beneath the limestone arch at Stacky's Bight. On return to Wombat Lodge, we came across a trickling river at the far end of Killiecrankie Beach and found the tiniest speck of Killiecrankie Diamond (as confirmed by island gold and silversmith Sandro Donati!) Be sure to visit his little workshop by the sea. Killiecrankie Diamonds are a colourless topaz and my spec is maybe worth a cupcake but, it does feel like striking gold to find one at a Flinders beach.
8. Castle Rock Hugs
​Go and give Flinder's biggest beach rock a hug … just try and wrap your arms round this one. You can nearly drive right to it but it's a great day out to walk there, paired with a visit to the Furneaux Museum and Wybalenna to dip into the island's rich (and confronting) indigenous past.
9. NE River & Palana Beach
​Head to the far north for long beach strolls, breathing in the freshest of Roaring Forties swept air. Palana Beach feels like it goes on for as long as a busy mind needs to clear. Then, pop out to NE River, where the river and ocean collide in raw majesty.
10. Summit Strzelecki
​Is the tallest peak calling? Climbing to the top of Mount Strzelecki is done best with the new walking outfit, Walk Flinders Island. David and Kathleen serve up tasty treats from their orchard down below at Trouser's Point, where you can catch a yoga class with Kathleen to settle into island time. Not up for a 6hr+ return hike? Hop on the bikes with Amanda and Claire of Mountain Biking Flinders Island, who go generations back on this island. They are all smiles and have an epic ride round Strzelecki plus another that takes you to the cellar door of Unavale.

---
Getting there
we went with Flinders Island Aviation which we highly recommend if flying out of Tassie. They can even take a bike or two! From Bridport, it's a short 35-minute flight, plus they can whip you across by chopper from Clover Hill Wines. Want to touch down on another island on the way? No worries? Sharp Airlines currently have flights from Launceston and Hobart, too. If coming from the big island, it takes about an hour from Melbourne. Or, go by boat from Bridport with a carload of kayaks!

We stayed at Allports on the Beach at Emita and Patridge Farm at Lady Barron during our recent visit. We also stopped in for a mini cooking class at Flinders Island Gourmet Retreat. Do check these out too.